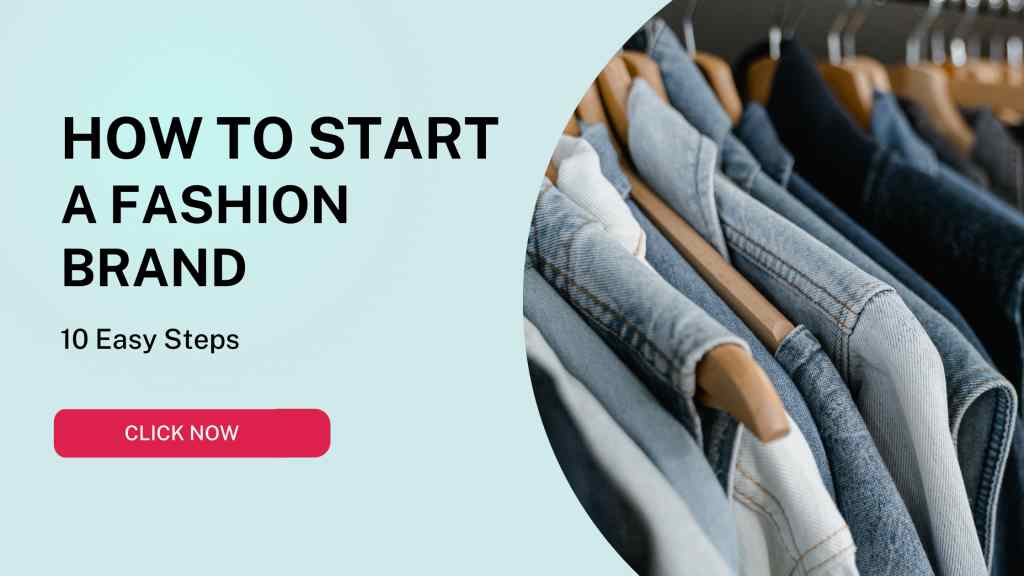 As we know, clothing brands have taken over the fashion industry. With all of the competitiveness and complications in the industries, you might be worried about how to start a fashion brand for the first time. To establish your fashion brand, confidence, self-assurance, and a proper business plan are all you need.
While starting your clothing line is difficult, with the help of online marketing, you could be able to turn a brand that started as a modest online store into a nationally recognized clothing line. Well, launching your fashion brands is a challenging task that further requires several must-have done steps.
From having a proper business plan, figuring out the niches, market understanding to pricing your product, and then deciding where to sell your clothing line, these are some of the few important steps that should be taken while thinking about starting your fashion brand. Let us dive into all the steps one by one to start to get the answer for how to start a fashion brand. From picking a niche to establishing your website, this step-by-step guide will walk you through the entire process.
1. A Proper Business Plan
Having a business pre-planned at the outset of your venture is always a good idea. This strategy will act as a guide for accomplishing your goals over the next few years. Keep in mind, though, that your business strategy isn't set in stone. This adaptability is especially crucial in the retail industry, which is always changing in terms of trends. And we have seen that in the best clothing brands in the fashion industry. Every day, new influences enter the market, and new technology and ways for buyers to find products emerge.
2. Identifying The Niches and The Target Audience
Following the implementation of your business strategy, the next stage in learning how to start a luxury clothing brand is to identify your market and industry specialization. This would further help you reach your target audience better.
3. Design, Brand name, and Logo
This is another most important step because having the uniqueness of your fashion brand is what makes it different from others. And this further helps the audience understand your brand better. Moreover, brand name and logo give your fashion brand recognition.
4. Pricing and Marketing
You'll have a better idea of how much it costs to start your Fashion Brands once you've identified your materials and clothing manufacturers. The balance between generating a profit and setting a price should be prepared when it comes to pricing. Marketing is another important factor that helps your brand reach more people over the globe.
5. Research Your Market and the Need of the Market
Having a proper idea about the current market helps you understand your target audience better. And that also helps you understand the needs of your consumers.
6. Staff Launching
As you know launching your fashion brand is a challenging task, this requires the efforts of a group of people to execute it properly.
7. Make A Decision About Where You'll Sell Your Fashion Brand
You're ready to start selling your brand's clothes after you've produced them and agreed on a price strategy. However, before you can start selling your product, you must first figure out where you'll sell it. You need to build up a platform to launch your products and brand. You should probably start by setting up your e-commerce website and social media profiles.
After you've started your clothing brands, your next step might be to broaden your sales channels by selling your fashion brand's clothes on social media.
8. Collaborating with Your Manufacturer
Finding the proper manufacturer to make your garments is critical to realizing your brand's vision and goals. Consider aspects such as your manufacturer's minimum order quantity, pricing, quality, and dependability while looking for a manufacturer.
9. Look for More Fundings and Partnerships
Finding the proper manufacturer to make your garments is critical to realise your brand's vision and goals. After all, a dependable manufacturer is important.
10. Creating Achievable Sales and Distribution Targets
Just launching your fashion brand isn't enough to reach your audience or consumers. If it is not distributed properly, there is no sense. Also, if you can continue to grow according to your business plan if you meet your sales targets.
Now the question arises how much does it cost to start a clothing line? Well, the costs of starting a clothing company might vary substantially. You'll want to assess and anticipate initial expenditures like clothing manufacturers manufacturing costs before you start developing your apparel line. Material costs and product sourcing, costs of design and delivery, costs of a website and marketing, and costs of distribution are the other costs that you might have an idea of.
Winding Up
These were the most important steps to follow when seeking an answer to how to start a fashion brand effectively. According to the entrepreneurs, patience, adaptability, and perseverance are all important qualities to have when learning how to establish and maintain a fashion brand. That's all you need to get an idea for how to start a clothing line with no experience. And now is the time for you to take over the fashion industry. I hope this was useful enough for you. Thanks for reading!.
FAQ
Having a better idea about the target audience and the need in the market is important. At Hula Global, our designers keep up well with the trending fashion and demand in the market and implement the designs accordingly.
Hula Global has always adopted sustainable innovation practices with its original concepts in the trendy fashion business. We encourage our manufacturers to engage as an innovation platform in the apparel sector.
Starting too big, rushing your branding, not getting professional tech packs made, focusing only on the product are some of a few mistakes we should not do while planning to start a fashion brand.
At Hula Global, we understand our audience and what matters to them. We implement our strategy, measure, test, and improve to make it sustainable. Because we know communication is key.