The usage of plastic for packaging has increased as a result of the advent of e-commerce; everything from the bag or box that an order is delivered in to the individual bags that hold the clothing and accessories is made of plastic.
Even when firms make every effort to employ environmentally friendly packaging, it's possible that plastic packaging was used earlier in the supply chain without their knowledge. In order to protect them from harm, products are frequently sent in plastic packaging to the brand's retail locations, distribution centres, or other points along the supply chain.
We are also observing an increase in the amount of plastic packaging used by clothing labels as a result of the development of online shopping and the rise in the number of clothing purchases each year.
It's crucial to remember that environmentally concerned consumers care about sustainable packaging in addition to sustainable production. There are numerous alternatives to traditional packaging for companies who genuinely want to adopt sustainability as a key principle.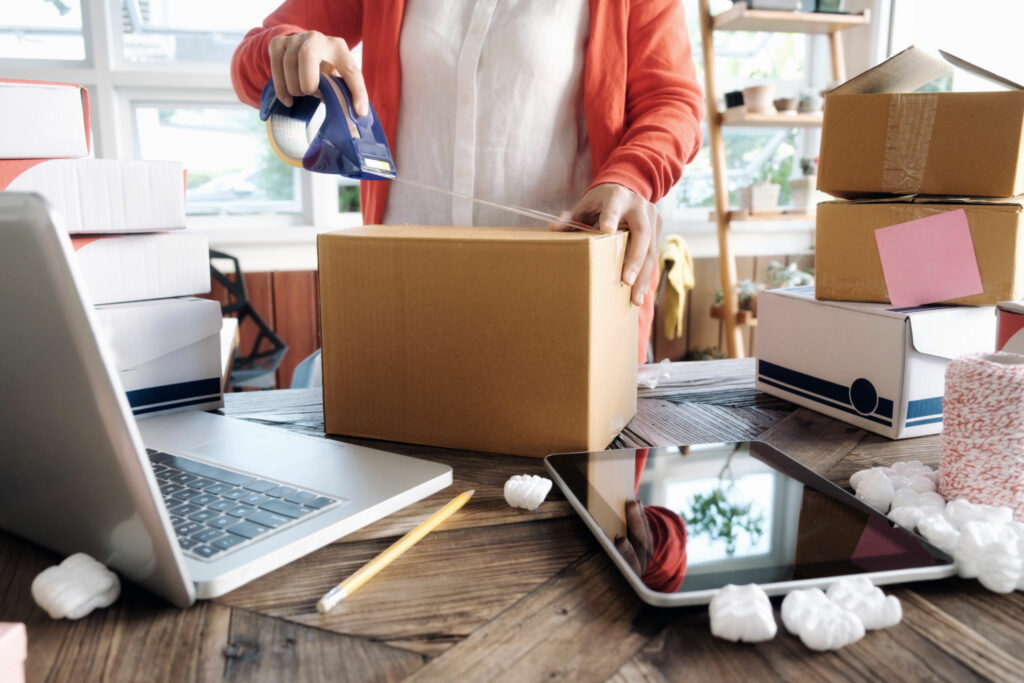 Compostable packaging
Compostable packaging is comprised of plant-based materials and can decompose at the end of its lifecycle, releasing beneficial nutrients that benefit the environment. That does not, however, imply that compostable packaging can be disposed of wherever one pleases.
It must be properly disposed of and placed to a composting bin after use, as the name implies. In this context, several brands make an attempt at greenwashing, even going so far as to say they are "compostable" when they truly mean "biodegradable." In the case of compostable packaging, brands should ideally provide specific guidelines for disposal.
Compostable bag production is time-consuming and expensive, and there is not enough infrastructure in place to make it a norm across the fashion industry. This is one issue that has not yet been overcome. We may anticipate further expenditures to address these issues in the not-too-distant future as more brands start to see the benefits of compostable packaging.
Recycled packaging
Eco-friendly firms are increasingly embracing packaging that is partially or completely recycled. In reality, there are a variety of packaging options to consider, such as paper bags, bioplastics, and cardboards.
The argument that paper and cardboard boxes are not water resistant is not unfair, but it may also be disproven. Market leaders like L'Oréal are using paper packaging with mineral coatings. When exposed to water, such containers prevent the contents from getting wet and allow them to dry fast.
A simple approach for sustainable packaging
While the movement toward sustainable packaging is admirable and all of the alternatives to plastic outlined above are preferable to it, minimalist packaging can also be a solution to the plastic pollution issue. Brands should begin using recycled or biodegradable packaging, but this should be accompanied by a decrease in the amount of packaging they use overall. The decision-makers should start by determining if this piece of packaging is truly necessary.
In order to prevent exposure and also for aesthetic reasons, online items are frequently wrapped in considerably more layers than are technically necessary. This also holds true for the package's size.
When delivering a product, the container should be large enough to retain the item securely but not large enough to hold three of them. The elimination of this extra packaging would be a significant step in the management of plastic pollution.
Benefits of utilising eco-friendly packaging
It's a considerate choice that benefits the environment and lowers pollution.
Using less packing can help you save money.
Brands that use sustainable packaging gain the allegiance of people who care about the environment.
Smaller packages are simpler to transport and dispatch
If we don't give products and packaging the same consideration, our attempts to make the apparel sector sustainable will fall short. It's time to change, and you may be the first to do it.