Planning to have your own brand and not coming up with good brand name ideas? Well, there are many things to consider when starting a fashion business, from designing your product to building a brand. For that being the case, one of the most important decisions you'll make is what to name your company.
Starting your own fashion business can be a hugely rewarding experience. But it's important to choose the right brand name to represent your company. So here are 10 ways that will help set you apart from the competition while naming your fashion brand.
Each one has its own strengths, so read on and take help to come up with the one that best fits your vision for your company. And remember, ideas for brand name are just the beginning. You'll still need to create a logo and marketing materials that capture the essence of your brand. So get creative and have fun with it!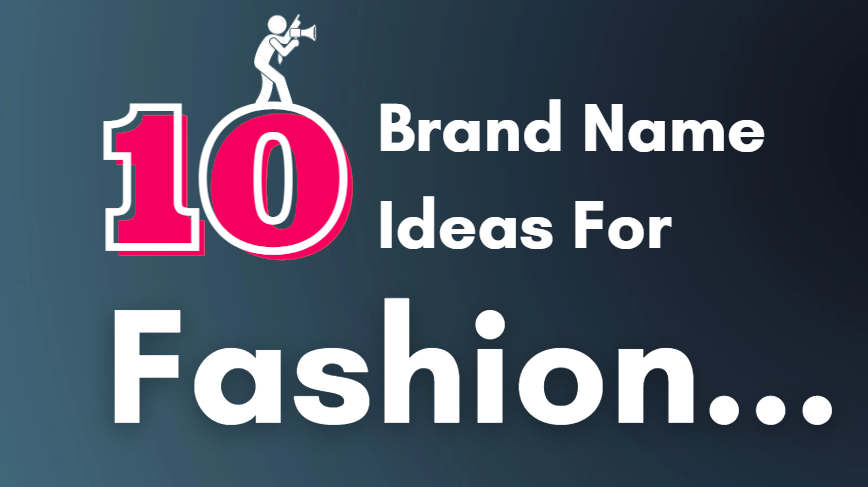 Easy, Breezy, and Innovative Brand Name Ideas!
Start with a strong name that will stand out in the industry
To come up with a good brand takes time and continual effort. But keep in mind that a strong brand significantly boosts a company's value. It gives employees a sense of orientation, motivation, and belonging. It also enables you to boost your prices and gain more consumers without having to lift a finger.
Building a healthy relationship with customers requires a strong, distinct brand image while thinking fashion clothing brand name ideas. If consumers believe you and they share the same values. And they will come to your brand and will be more inclined to choose you over the competition.
Keep it simple and easy to remember
A simple name is not only easier to remember when they see it again. But it is also easier to absorb and grasp. Furthermore, It is easier to correlate with pleasant events because it activates critical memory centers in the brain rather than confusing or overloading the brain with too many messages.
Think about your target market and what words they would use to describe your brand
Targeting a specific market does not imply excluding people who do not meet your requirements. Target marketing, on the other hand, allows you to focus your marketing dollars and brand message on a specific market that is more likely to buy from you than other markets.
Understanding your market – both your clients and your competitors – is critical for building a successful business when seeking brand name ideas for clothing. Discovering what your clients truly desire will allow you to improve your products and services to satisfy their needs.
Use adjectives that evoke positive emotions for fashion name ideas
When we are open to new possibilities as a result of happy emotions, we are better able to learn and develop our skills. This leads to improved performance on tasks and tests. People that experience a high level of pleasant emotions in their daily lives tend to be happier, and healthier. And they learn more effectively getting along well with others.
Emotional Branding educates a corporation on how to develop its personality in order to leave a lasting impression on users. Therefore while coming up with the brand name ideas for your brand it's really important to connect with the audience. Brand personalities develop compelling personas that elicit a positive emotional response to the brand. Experience is a crucial aspect in developing brand identity in Emotional Branding.
Be creative and original – avoid using generic names that are already taken
Not only can a creative name help to build trust and authority between your business and your customers, but it can also improve the ranking of your website in search results, create and increase audience engagement, and generate leads.
Check to make sure the domain is available
A domain name is the first step in establishing your company's online presence when you seek clothing brand name ideas. It will help to set the tone for how your clients discover your website, perceive your company, and interact with your brand.
And, while it isn't the only factor influencing your site's success, there are other reasons why you should choose a domain name with care: A memorable, one-of-a-kind name is more likely to linger with visitors and entice them to return. Search Engine Optimization is influenced by domain names (SEO) (Tulipdigital is a great option for SO services)
Think about what you're passionate about
It represents what you stand for in the marketplace. It is a representation of your products or services. It communicates your company's ethics, values, and goals. In certain ways, it also communicates to them how you feel about them and what value you can provide them.
Narrow down your options
Narrowing down your options while coming up with new brand name ideas makes you unique from others and helps you stand out from other companies.
Do your research for your brand name ideas
The goal is not to choose a winning name or to judge how appealing it is. If done correctly, name research may provide insight into the thoughts of consumers, demonstrating how they respond to specific words and the impact this can have on their relationship with your product and corporate brand.
Make sure it's legal and trademarkable
It safeguards your reputation and prevents other businesses from infringing on your intellectual property. While trademarks ensure that other businesses do not steal your ideas, their primary legal purpose differs from that of other types of intellectual property.
Bottom Line
We have now collected 10 brand name ideas for you, some serious, others light-hearted as inspiration for your business name. The fashion industry is a highly competitive one and there are many ways to stand out. One way would be through unique branding that sets your company apart from the rest of the competition.
If you want help with designing or marketing strategies in this field, we can provide it! Contact our team at Hula Global today if you have any questions about how we can partner with you on all things related to design and strategy in the fashion industry. Which of these clothing brand name ideas do you like? If any of these spark your interest or if you have another idea in mind, contact us at Hula Global today to see how we can help turn it into reality.